No comments
A quick progress report. The build in OpenEmbedded for the Raspberry Pi2 went well and I imported the binary packages into woofQ and created an SD-card image.
Got a desktop, however needs a lot more work.
Some old PETs used in the build, do not work. "ldd" reports that they are "not executable". This is a problem I have had before, do not understand why. With x86, old binary executables can be used, usually without any problem as long as shared library APIs haven't changed.
However, not so with ARM, even though they are all compiled for armv7.
This problem means that I will have to recompile a lot of packages. That is, packages that have not yet been imported into OE.
No comments
I found a great app, that does what it's name suggests:
https://www.freefilesync.org/
FFS runs on Linux, Windows and Mac. It is an open source project, and requires the wxWidgets multiplatform GUI toolkit.
Running Quirky 8.1.6 (based on Ubuntu 16.01 x86_64 DEBs), I compiled first wxwidgets 3.0.3:
# ./configure --prefix=/usr --sysconfdir=/etc --localstatedir=/var --build=x86_64-pc-linux-gnu --with-zlib --with-expat --with-regex --with-sdl --with-opengl --without-gnomevfs --with-libiconv --with-libxpm --with-libtiff --with-libjpeg --with-libpng --with-gtk=2 --enable-plugins --enable-controls --disable-webviewwebkit --disable-metafiles --disable-joystick --disable-webview --disable-webkit --enable-utf8 --disable-mediactrl
Compiling freefilesync 9.1 was just a matter of running "make", however it needed a few more DEBs to be installed. Then there were some compile errors.
A quick google showed a couple of other people hit the same failures. One of the chaps got two failures, and just avoided them by commenting out the offending lines.
I did the same, but there was one that is weird:
error, FreeFileSync/Source/fs/abstract.cpp
comment out line 82:
    //BKwarn_static("evaluate: consequences of stale attributes")

error: FreeFileSync/Source/ui/main-dlg.cpp
ui/main_dlg.cpp:959:68: error: 'class wxListBox' has no member named 'GetTopIte '
     globalSettings.gui.cfgFileHistFirstItemPos = m_listBoxHistory->GetTopItem()
ref: https://www.freefilesync.org/forum/viewtopic.php?t=2585
i have commented out line 959
error: shouldRunPeriodicUpdateCheck
have commented out functions at lines 4770, 4785
<
What is weird about that line 959 is the missing "m". The guy who got the same error, did have that "m". He commented out the line.
I did too, but wonder what the repercussion will be.
No comments
Having a electronic engineering background, and programming of microcomputers in assembly language, the title "WebAssembly" at cnx-software.com caught my eye:
http://www.cnx-software.com/2017/05/31/webassembly-is-a-cross-platform-cross-browser-solution-for-high-performance-code-in-web-browsers/
Interesting, it seems that it could even be used outside a browser, to create standalone apps.
Early days, but definitely a project to watch.
No comments
I am very impressed! Having used T2 for many years, where I would struggle for days trying to get packages to compile, this just sailed through.
Furthermore, it is a cross-build, which I have never been very successful with.
My complete package selection compiled, including kernel, kodi, firefox, gimp and libreoffice.
I had to take out nasm, yasm and xresprobe, as they are x86 only.
I am just now doing a rebuild from scratch, as there was one anomaly along the way, configuring mesa to be appropriate for the Pi. Although bitbake (the kind of "make on steroids" in OE) is very intelligent, I decided to do a complete clean rebuild.
That will take just over 9 hours.
Then the plan is to import the binary packages into woofQ and create a SD-image for the Pi2 (and Pi3).
I want to acknowledge the guys on the OE project who do all the hard work. It is a testimony to them, that I can come along with my package selection and have it all build, hardly without any issues, for x86_64 and Pi.
No comments
Now this does look good:
http://www.cnx-software.com/2017/01/03/banana-pi-bpi-r2-router-board-powered-by-mediatek-mt7623a-quad-core-processor-comes-with-5-gbe-ports-sata-and-more/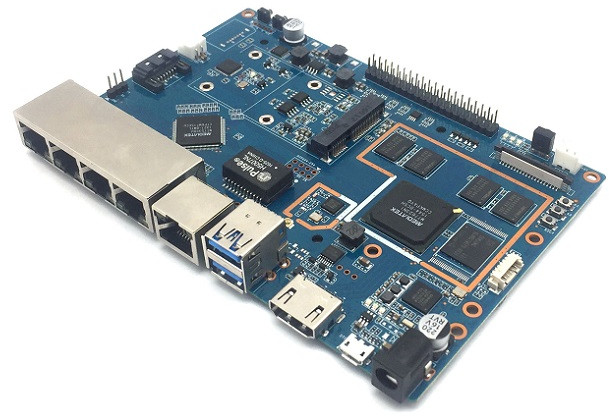 No price yet, not yet for sale. The R1 model is selling for US$67.
Manufacturer's page:
http://www.banana-pi.org/r2.html
There is also a wiki page on the R2:
https://bananapi.gitbooks.io/banana-pi-bpi-r2-open-source-smart-router/content/
Pages: ...
[2]
[3]
[4]
[5]
[6]
[7]
...