If I was on the lookout to buy a mini-PC right now, this one would rate near the top of the list:
https://www.aliexpress.com/store/product/Fanless-Windows-10-Mini-PC-Desktop-MeLE-PCG35-Apo-4GB-32GB-Intel-Apollo-Lake-Celeron-J3455/715968_32822268228.html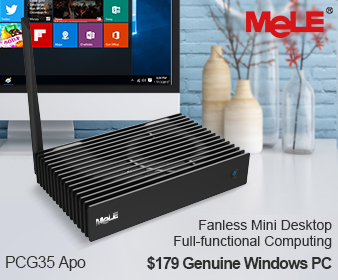 The Aussie Dollar is riding high right now, one Dollar buys 80 US cents. Let's see, US$179 is AU$225.
The chap at cnx-software has looked at it:
http://www.cnx-software.com/2017/07/18/mele-pcg35-apo-mini-pc-is-powered-by-intel-celeron-j3455-desktop-processor-supports-2-5-sata-drives/
Apparently there is an "Ubuntu edition" in the works.
Comments:
Mele PCG35 price down again
Posted on
4 Aug 2017, 15:27
by
admin
I told "cnxsoft", the chap who runs cnx-software.com, about this price-hike, and he replied that Mele put the price up and down, often on weekends they bring the price down again.
So, I sent a message to Mele, via the Aliexpress message board, asking if I can buy it at the lower price. Hey, they just about immediately lowered it again, and replied to me that I can buy it at the lower price.
Sometimes, it pays to ask!
Mele PCG35 price hike
Posted on
3 Aug 2017, 15:25
by
admin
Well, it was US$179 this morning. This afternoon it is US$225.